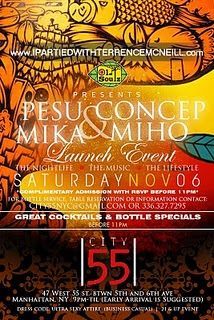 ■date:
2010.11.06(sat)
■title:
HAIR & ART SHOW LAUNCH EVENT
■venue:
City 55.
47 West 55th street. (Between 5th and 6th ave) NYC
■artist:
PESU, Concep, Jambo★Mika, Miho
※music:DJ JURI
I partied with Terrence Mcneill.com has the pleasure of coordinating the grand opening of New York City's new and exclusive lounge City 55.
New York, NY, November 2, 2010-(I.P.T.M.) - I partied with Terrence McNeill.com has signed on to manage the media relations and event coordination for the grand opening of the elegant lounge City 55. Located in the Mid-town section of New York City, City 55's grand opening celebration will give each person the ultra electrifying night life experience that many lounges cannot offer. This exclusive event will be having a miniature hair show from hair artists Mika & Miho, as well as vusial artists PESU, and Concep will be performing there elite talents for the celebration. The much anticipated event will take place on
*For more information about Table reservation; all media, sponsorship and event inquires, contact: Terrence McNeill, Terrence.mcneill@gmail.com or Tenyse Williams, Tenysewilliams@gmail.com (First and Last names are required for consideration)
***PRESS&MEDIA***
9PM-11PM
(DO NOT FORWARD)
EXECUTIVE PRODUCED BY: WWW.IPARTIEDWITHTERRENCEMCNEILL.COM
cu there!